The borough town of New Toronto isn't exactly known for vintage designer shopping. However, just steps away from Humber College, Lakeshore Campus, lies PARIS CALLING, a new re-sale, designer women's vintage store, where vintage craving fashionistas arrive with the urge to snag one of a kind designer vintage pieces. Glamour 1930's gowns, lace tulle skirts, retro heels, handbags, and vintage couture European suits. It's almost nostalgic when you first enter, even the choice of music transports you to that special era of the 60's, or 70's depending on the playlist. Who knew that this shop existed? And why has it passed radars of places to shop on the Lakeshore? That's it really, The Lakeshore, not a common place to find a shop that carries vintage, one of a kind, high-end, women's designer apparel.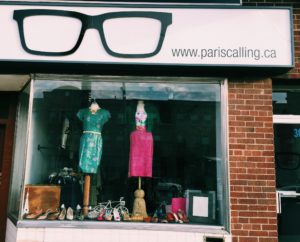 Paris Calling situated at 3043 Lakeshore BLVD West, (between Islington Avenue and Kipling Avenue: 7 min walk from the Humber College Campus), first opened one year ago, with an aim to sell high end, women's vintage apparel, and accessories. Michelle K, the sole owner, custom selects the pieces that she sells and displays in her shop.
"I choose the items that I want to sell in my shop. I don't accept just anything. All the items that I sell are because I have carefully inspected and selected them". She receives donations from her neighborhood clients, that frequent the shop. Michelle recalls, how one of her customers donated the wedding dress that her and her late husband got married in. "I still have that wedding dress in my closet, I'm not putting that in the shop. Somethings just have a sentimental value, I couldn't bear to sell it".
DESIGNER BRANDS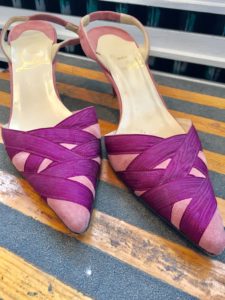 Paris Calling carries Canadian designer brands such as Ross Mayer, Catherine Reghr, Comrags, and Linda Lundstrom. Dominican-American designer brand Oscar de la Renta. European designer brands as Dior, Prada, Miu Miu, Alexander McQueen, Chanel. Designer shoe brands as, Christian Louboutin, Salvatore Ferragamo, Fendi, and Christian Lacroix. Most who enter don't expect to find authentic designer re-sale vintage brands on the Lakeshore, Michelle points out, "I can't compete with other vintage retailers in the area because they don't sell anything similar to what I carry. I have an advantage of selling brands that most millennials are looking for and it doesn't hurt their wallet".
The price of apparel ranges between $7-$2000, mostly all in good condition. Her shoes and handbags range from $20-$200 and jewelry between $1-$30, mostly under $15. Michelle mentioned that she wanted her shop to have an ambiance of Paris, France. Picture a couple on a Saturday afternoon, she says, the wife leaves and the husband asks, "where are you going?", and the wife answers, "I'm going to Paris".