This is the second part of the coverage of Professor Julie Savile experience in Milan, be sure to take a look at Part 1 of her trip to the Lineapelle Tradeshow in Milan.
"You go, to go to the show and it is an industrial show so you can meet all of your suppliers. Basically we are not selling, we're buying at the show" Says Professor Julie Savile, from Fashion Humber. She attended the trade show Lineapelle 2017 in Milan and shared with us her insider story of the trip. "This show included everything to do with leather and mostly it was a shoe show to be honest, because more leather gets used in shoes than anything else", she shares. Her trip was scheduled during our February reading week, and it was a three-day trip in Milan. Her experience during these days were:
Day 1 @Milan:
On her first day of the show Julie looked at the hardware people, she saw various designer buckles, studs, eyelets and all other kinds of metal embellishments that one could put on leather. She was looking for people who came up with interesting things so that she can buy them and put them on her leather bracelets.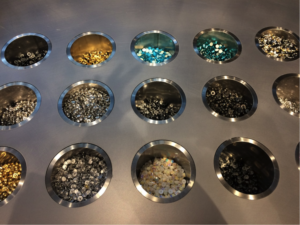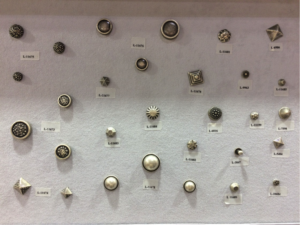 She also bought a bunch of buckles. So basically you can sit down with the supplier's and write orders for samples.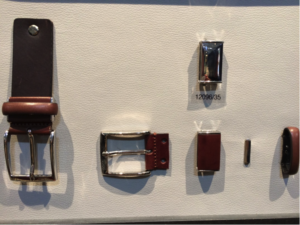 Day 2 @Milan:
The second day was all about leather, so Julie went to meet all vendors that she buys leather from. There they discuss what the new colours trending in leather are, since there is always a huge discussion on leather coming from Italy versus leather coming from Bangladesh. She saw leather shoes as well but at the show they were not really allowed to take pictures because of the technology – with some boots your camera gets locked down if they see you're taking a picture!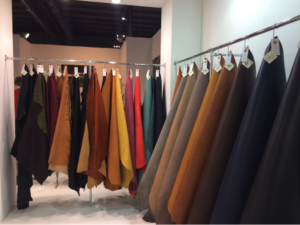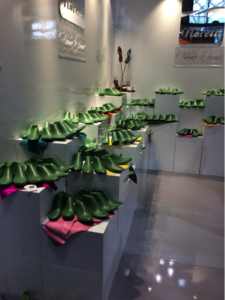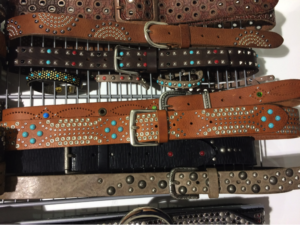 Day 3 @Milan:
For the last day in Milan, Julie went to look at the machineries used for manufacturing leather goods. These machine were of all kinds: machine to make shoes, belts, print leather –there were some amazing machines to print on leather, engraving them as well.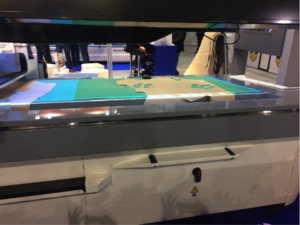 Other details about the show:
The show deals in pure leather called vegetable tanned leather. The cows are mostly European, and are primarily French. Also, the belt industry is small as compared to shoes industry in Milan.
 Most interesting things about the show:
The most interesting things in the show according to Professor Julie Savile was the printed leather. There was over a million dollar machine to print on leather and according to insider news, there is only one company who had it in Italy and Gucci and Louis Vuitton had it booked for a year.
Trends in leather – 2017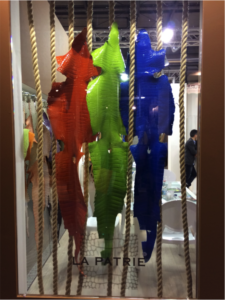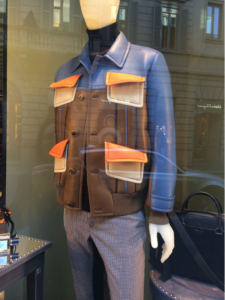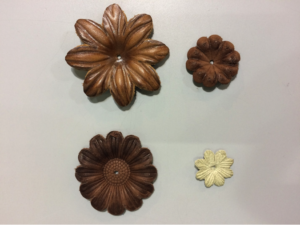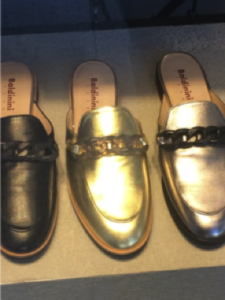 Here's what Professor Julie Savile says about leather trends in 2017, according to her the following will be the most popular this year:
Coloured leather.
Patch work on leather.
Embellishments on leather: Metal, stones, eyelets.
Metallic finishes on leather.
Embossed patterns.
Woven leather.
See Part One of Professor Julie Savile's trip to the Lineapelle Tradeshow in Milan.