Anyone who lives in Toronto and has an interest in fashion is no stranger to Queen Street West. When inspiration runs dry or you are looking for pieces that you can't find at the usual fast fashion retailers, window shopping along Queen West will often breathe new life into your repertoire. It was on one of these shopping trips where a friend and I discovered Sonya Lee. On a whim, we popped into accessory store Zane, thinking we might find some inspiration for new sunglass styles for the summer, but instead were both immediately drawn to a display of beautiful handcrafted leather backpacks. There was one in particular that caught our eyes; industrial style construction, buttery smooth black bison leather, a gorgeous calf hair flap with chrome plated solid brass fastenings (See below to swoon).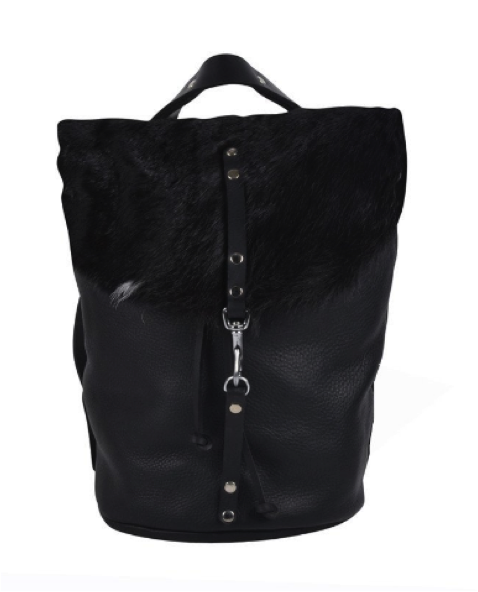 The sales associate informed us that the bag designer was a local Torontonian, Stephanie Ibbitson, who hand makes the bags locally in her studio. Ibbitson says that she designs her bags to be "modern and simplistic, but can deal with the fact that I'm going to treat it like absolute sh*t".
Sounds like my kind of bag.
Stephanie considers her line to have a feminist slant and is a big-time supporter of the Toronto female arts community, regularly hosting dinner parties where other female artisans can get together to discuss, support and motivate. She also names her bags after empowering women in her life who have inspired the designs (rad!). These bags seem like the perfect gift to buy yourself as a reward for being a boss (I'm thinking graduation present?).
A few more faves available on sonyalee.co/shop/.